Summary – Game Colony
Game Colony is operated on it own software since 1999. Software based on Java and need no download.Two players Spades games, multi-player environment for Tournaments and English language chat facility.Useful Sades forum. Free and Cash games. Nice welcom bonus and Tournament prizes.
NB Note:Game Colony has no gambling!Just skill games.

Go check out this top rated game site. Visit Game Colony now
Spades Games at Game Colony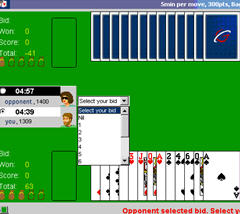 Two player game.
Ladder games for player rating.
Muliplayer tournaments.
Mini Tourneys.
Spacial tournaments room.
Tournaments are not for free.

Now experience the exciting Mahjong at Game Colony. Simply click here
Our Spades Game Enjoyment Factor Rating:
Software & Website Features
Used an own software.
A download is not required.
Need Java installed on your computer.
Play for free or real money.
The games and chat are in English.
Multi-player environment with chat.
The website includes game rules and virtual shop.
Virtual Goods.

Start enjoying this top quality game site now. Go to Game Colony
Software & Game Play Quality Rating:
Game Colony Bonuses & Promos
Welcome bonus to buy some Tickets.
Monthly prizes fot Top Ten players.
Cash prizes for tournament winners.

Go take advantage of the latest offers at Game Colony
Our Bonus & Promos Rating:
Management & Customer Services
Game Colony is operated by Electronic GC Corporation, Newport Beach, CA USA.
Spades Forum.
Customer support via online form.

Now play at this honest and reputable game site. Go to Game Colony
Our Customer Service Rating:
Money & Banking
Payment is in Tickets.
1 Ticket=1USD $.
Transactions by MasterCard, Visa and PayPal.
Multiple Currencies supported.
Our 'Game Colony' Overall Rating:

Go win some games today at Game Colony
Give your own rating:
Other players rated this casino:
Click a star to add your own rating.