Summary – Hardwood Spades
Hardwood Games is operated on own software since 1994.Multi-player environment or single player against the computer.52 playing cards.A lot of playing rooms including league and premium.Free games to play.Premium members account.Leader players system.
NB Note: Spades at Hardwood Spades for free only.

Go check out this top rated game site. Visit Hardwood Spades now
Spades Games at Hardwood Spades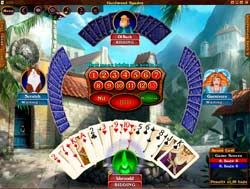 52 playing cards.
Four/three players game.
Pair up with partner or individual playing.
Number of different playing rooms.
Play against computer for practice.
Social and Rated games.

Now experience the exciting Mahjong at Hardwood Spades. Simply click here
Our Spades Game Enjoyment Factor Rating:
Software & Website Features
The software is by Silver Creek.
A download is required.
Multi-player environment with quick chat (premade chat messages).
Spades Games for free only.
The games and chat are in English.
The website includes game tips, rules, news.
Spades Store with virtual items such as avatars, card tables, deck face and back etc.
Plus Member account as payment section of the site. Included: free form chat, rated/leader games, league and premium rooms.

Start enjoying this top quality game site now. Go to Hardwood Spades
Software & Game Play Quality Rating:
Hardwood Spades Bonuses & Promos
Players rank.
Leaderboards.
Monthly bonus for Plus Member accounts.

Go take advantage of the latest offers at Hardwood Spades
Our Bonus & Promos Rating:
Management & Customer Services
Hardwood Games is operated by Silver Creek Entertainment, PO Box 518, Grants Pass, Oregon 97528, USA.
Customer service: Customer support via email.

Now play at this honest and reputable game site. Go to Hardwood Spades
Our Customer Service Rating:
Money & Banking
Payment is in Tokens.
400 Tokens=4,99USD $, 800 Tokens=9,99USD $, 1600 Tokens=19,99USD $
Transactions by GoogleCheckout and PayPal
Our 'Hardwood Spades' Overall Rating:

Go win some games today at Hardwood Spades
Give your own rating:
Other players rated this casino:
Click a star to add your own rating.