Summary – Pogo.com
Pogo.com is an interactive products lable of Electronic Arts Inc. They use EA not-downloaded softwere with multi-player environment and chat facility. Choice of play rooms level – since beginner till master. Players can enjoy games with real people or computers. Nice virtual prizes and gifts.
NB Note: Spades at Pogo.com for free only.

Go check out this top rated game site. Visit Pogo.com now
Spades Games at Pogo.com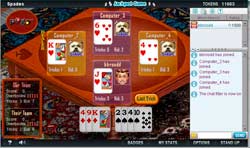 Four player game.
Pair up with partner.
Several player levels:since baginner till master.
Play against computer for practice.
Private tables, uncensored chat, international rooms.

Now experience the exciting Mahjong at Pogo.com. Simply click here
Our Spades Game Enjoyment Factor Rating:
Software & Website Features
The software is by Electronic Art Inc.
A download is not required.
Need Java installed on your computer.
Spades Games for free only.
The games and chat are in English.
Multi-player environment with chat.
The website includes game tips, news and shop.
Pogo Club as payment section of the site.

Start enjoying this top quality game site now. Go to Pogo.com
Software & Game Play Quality Rating:
Pogo.com Bonuses & Promos
Virtual draws prizes.
Players rating by Tokens.
Free Pogo Gems to get different useful items to play at Pogo.com.

Go take advantage of the latest offers at Pogo.com
Our Bonus & Promos Rating:
Management & Customer Services
Pogo.com is operated by Electronic Arts Inc., Redwood City, California, USA.
Customer service: Customer support via email. Newsletter keeps you up to date of latest offers.Pogo Forum.

Now play at this honest and reputable game site. Go to Pogo.com
Our Customer Service Rating:
Our 'Pogo.com' Overall Rating:

Go win some games today at Pogo.com
Give your own rating:
Other players rated this casino:
Click a star to add your own rating.