Summary – WorldWinner
WorldWinner is operated by GSN Company since 1999. Web-based software.Free spades games and cash competitions.Nice virtual and cash prizes.Powerful customers support.Players Ladder and Rewords points.
NB Note: No gambling. Skills games only.

Go check out this top rated game site. Visit WorldWinner now
Spades Games at WorldWinner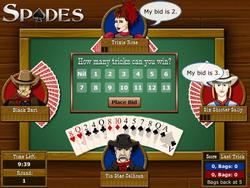 Single player with three computer bots.
Pair up with computer.
Ladder competitions.
Cash Competitions.
Player to player challenges.

Now experience the exciting Mahjong at WorldWinner. Simply click here
Our Spades Game Enjoyment Factor Rating:
Software & Website Features
The software is by GSN Company.
A download is not required.
Need Java installed on your computer.
Spades Games for Internet Explorer only.
Play for free or win cash in Cash Competitions.
The games is in English.
Multi-player environment.
The website includes game tips, news and shop.
Pogo Club as payment section of the site.

Start enjoying this top quality game site now. Go to WorldWinner
Software & Game Play Quality Rating:
WorldWinner Bonuses & Promos
Credit bonus in cash and rewords.
Set of Rewords points bonuses:registration, email confirmation, profile updating, first game play and much more.
Double first time deposit.
Rewords points prizes to top players on the Ladder.

Go take advantage of the latest offers at WorldWinner
Our Bonus & Promos Rating:
Management & Customer Services
WorldWinner is subsidiary of GSN company.World Winner Inc. 21 Hickary Drive, Waltham MA 02451, USA.
Pogo Forum.
Customer service: Customer support via email.FAQ.Online Feedback form. Newsletter keeps you up to date of latest offers.
Services team is also available at Live chat between the hours 9 to 5 EST Tuesday through Friday.

Now play at this honest and reputable game site. Go to WorldWinner
Our Customer Service Rating:
Money & Banking
Runs in USD $.
Transactions by MasterCard, Visa and PayPal.
Our 'WorldWinner' Overall Rating:

Go win some games today at WorldWinner
Give your own rating:
Other players rated this casino:
Click a star to add your own rating.