Yahoo Games Spades Review – Closed
Summary – Yahoo Games – CLOSED
Yahoo! is operated since 1994.Four players spades games with 52 playing cards.Web-based software with chat facility.Nice virtual prizes and system of players ranking/ladder.
NB Note: Spades at Yahoo Games for free only.
Spades Games at Yahoo Games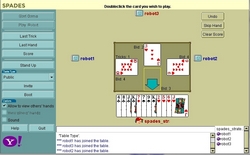 Four players game.
Pair up with partner.
Used 52 cards.
A lot of gaming rooms and several player levels:since social till advanced.
Spades leagues.
Play against computer for practice.
Rated games.
Private, protected tables.
Own tournaments creation.
Official Yahoo! Tournaments with virtual prizes.
Spades leagues.
Software & Website Features
A download is not required.
Need Java environment on your computer.
Spades Games for free only.
The games and chat are in English.
Multi-player environment with chat.
Spades Message board.
The website includes game rules, strategy, news, radio, Yahoo! Messenger.
Pogo Club as payment section of the site.
Yahoo Games Bonuses & Promos
Virtual prizes.
Players ladder/ranking.
Management & Customer Services
Yahoo Games is operated by Yahoo! Inc., 701 First Avenue Sunnyvale,CA 94089, USA.
Customer service: Customer support via email and online form. Newsletter keeps you up to date of latest offers.